Grass will feature the Tiomos Hinge System at AWFS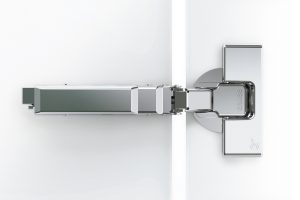 The Tiomos Hinge System from Grass offers a continuous, smooth closing action regardless of door size, weight, or composition.
"Available in 95-, 110-, 120-, and 155-degree openings, Tiomos is suitable for a wide range of frame and frameless cabinetry applications, including positive, negative, and corner door orientations," the company says.
"Grass engineers have also streamlined the soft-close mechanism to fit inside the body of the hinge, maintaining the sleek and modern look while improving performance. The soft-close mechanism can be adjusted easily and without tools, even after the doors are installed.
"Tiomos is built with the artisan in mind, with worm gear adjustment technology for precise adjustments that stay locked in place and industry-leading kinematics for superior performance."
Visit with Grass at AWFS booth No. 3423.