Dürr to present an entry-level dosing unit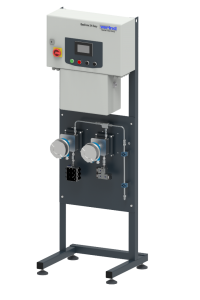 Dürr Systems Inc. will feature the EcoDose 2K Easy, an electronic dosing system for quick color changes, at AWFS.
"The EcoDose 2K Easy represents the entry level of dosing units, offering high-quality performance combined with premium-level components known from Dürr's EcoDose 2K/3K product family," the company said.
"The EcoDose 2K Easy is an electronic dosing system suitable for high-and-low pressure applications. It can be used in manual and automatic processes. Optimized for quick color changes and easy flushing, it enhances resource utilization and contributes to higher application efficiency. Fluids are measured consistently and precisely, even media with different viscosities. Accurate dosing is managed through our direct injection mix technology.
"Typical fluids handled are 1 or 2K materials, water and solvent-based paints, varnishes, lacquers, and monolayer paints."
Visit with Dürr Systems Inc. at AWFS booth No. 4262.