Festool USA presents new Systainer3 Starter Set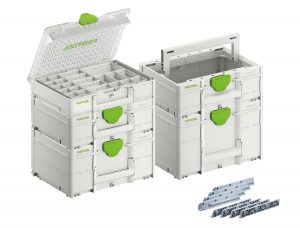 Festool USA has announced that it will offer a new entry-level set of its most popular Systainer3 products for a limited time starting Aug. 3, and also bring back a popular limited-edition product, the STM 1800 Mobile Sawing Table.
The Systainer3 Starter Set includes three Systainers of varying sizes, one toolbox, one tool and parts organizer and four sets of Systainer rails for cabinet installation options, affording users the ability to meet a variety of their tool storage needs in the workshop and on-the-go.
Each Systainer3 storage solution has a handle for convenient toting and an integrated side-groove compatible with the included Festool mounting rails for a DIY storage rack. As with all Festool Systainers, Systainer3 containers include front closures with interlocking capabilities and are compatible with all other Systainer units.
"As Festool continues to strive for excellence in convenient and reliable solutions for our customers, we are excited to present this Systainer3 Starter Set," says Rick Bush, product marketing manager at Festool USA. "This set provides ample opportunities for efficient storage and transportation for a more productive work environment."
Additionally, Festool will reintroduce the STM 1800 Mobile Sawing Table, first released in 2020 as a limited edition, due to popular demand. The STM 1800 has adjustable features such as panel cleats, locking casters and table leg heights so one person can load, tip, and align large sheets like plywood. The Mobile Sawing Table securely supports sheet goods up to 10' x 7' for versatile cutting applications, and it doubles as an assembly bench.
For more, visit booth No. 1346 at AWFS and festoolusa.com.