IMS Twister heads for AWFS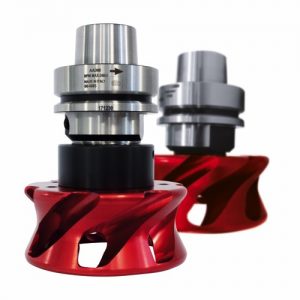 IMS USA will spotlight its dust extraction tool, the IMS Twister original version and its new variants, Twister Hydro and Twister Heat, at the upcoming AWFS Fair.
The IMS Twister system promises a cut more, clean less process that improves the quality of the cutting application, according to the company. "The IMS Twister removes 90 percent of production debris when cutting. Waste material does not accumulate, keeping workspaces free of wood chips and residuals. Using the IMS Twister is safer and extends the life of the cutting tool. Clean-up time is drastically reduced and the Twister is rust-resistant. Electronic and pneumatic components remain free of dust and debris, resulting in less cost and time spent on daily maintenance. The Twister is ideal for cutting dripboard, laminated materials (including high pressure laminate), medium-density fiberboard and drywall.
"The hydraulic technology applied to the dust removal system allows it to combine excellent aspects of concentricity, tightness on the tool, precision and cleaning of the work surface.
"Applying heat shrinking technology, IMS Twister Heat is the most accurate solution for dust removal. High-speed operations are the ideal application field for this solution, which features concentricity up to 10 times higher than those of the standard version with collet chuck. In fact, even over 24,000 rpm, IMS Twister Heat guarantees a clean and precise cut without any vibration or noise increase."
"Since the IMS Twister was introduced in 2018, cleaning has never been easier," adds Emanuele Porro, CEO of IMS USA. "Now with three versions to choose from, all with high precision standards, prepare to have your cutting space transformed. And prepare to be impressed."
Visit IMS USA at AWFS booth No. 2322.