Peak to feature Endurance PCD tooling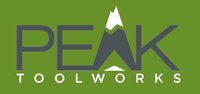 Peak Tool Works will showcase its Endurance Diamond finger joint tooling at the AWFS Fair in Las Vegas.
"Our Endurance PCD has a much higher impact resistance than standard PCD," the company explains. "This impact resistance enables us to manufacture PCD tooling fore applications that have typically been dominated by HSS and carbide tools. Not anymore!"
Advantages, according to the company, include:
Depending on the material being machines, Endurance PCD Tools may last dozens, even hundreds of times longer than the typical HSS tooling being used today.
All heads are custom built
The design of our head allows us to put more teeth in a given tool diameter
The accuracy of the joint allows the operator to run the depth that the joint was designed to run art.
The accuracy of the joint also reduces stress from the pressing process, thus reducing warp and twist.
Less glue consumption has also been reported.
For more, visit booth No. 2801 and www.peaktoolworks.com.