WCA will showcase online training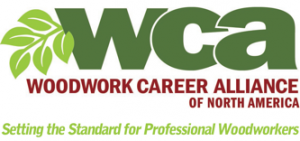 The Woodwork Career Alliance of North America looks forward to reconnecting with the wood products industry at the AWFS Fair in Las Vegas.
"We are thrilled to participate at the AWFS Fair," said Scott Nelson, president of the WCA. "I imagine the show will feel like a big industry reunion. It's going to be great to meet new people and to catch up with industry friends and supporters we haven't seen since before the pandemic. I'm also excited about being able to discuss some of the new programs we're working on for school woodworking programs and professional woodworkers."
One of the newest programs WCA will showcase is its online training for Accredited Skill Evaluators (ASE). The online platform allows woodworking instructors to schedule their ASE training and testing at their convenience saving them both time and travel costs. Since its soft launch last fall, 32 teachers from 13 states have enrolled in the online ASE training program.
"The biggest benefit for instructors far and away is the ability to get trained anywhere in the world and at their own pace," said Greg Larson, vice president of the WCA. "We've also added more material to the training session, so it's more in-depth. This will help us grow the number of WCA EDUcation programs throughout the U.S. and Canada that educate students using WCA's woodworking industry-recognized skill standards. That's a major benefit for the industry that is desperate to find qualified candidates."
Nelson and Bruce Spitz, a member of the WCA Board of Directors and former owner of Classic Millwork & Products, will co-present a workforce development workshop: Building a Training Program for Your Workers. The nuts-and-bolts session is scheduled for 9:30 a.m. on Thursday, July 22. Attendees will create training a template based on their production shop's unique needs. They will also learn how to develop new employees for their first two years both in knowledge-based skills and machine-based skills.
Just for fun, the WCA invites all AWFS Fair participants – attendees and exhibitors alike – to put their spray finishing skills to the test. The SimSpray virtual reality finish training apparatus will be ready for all challengers in the WCA's booth.
WCA representatives will be on hand to discuss its industry-recognized skill standards and credentialing programs for students and professionals.
For more, visit both No. 1979 and www.woodworkcareer.org.