Custom software for manufacturing excellence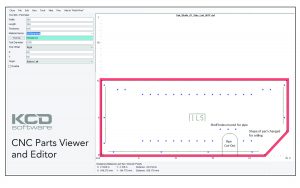 KCD Software, a leading creator of powerful cabinet and closet design to manufacturing software, will showcase CNC Commander at the AWFS Fair 2021 in Las Vegas.
KCD Software puts a fully loaded cabinet design studio at cabinet and closet makers' fingertips where they can create custom projects quickly using an expansive library, or design and save their own unique units, according to the AWFS exhibitor. Initial cabinetry or closet layouts can be roughed in using preset units with hundreds of styles. Full libraries include frame, frameless and closets as well as wood libraries.
The KCD Commander level of the software offers One-Button Machining which calculates and optimizes toolpaths, maximizes material yield with True Shape Nesting, and generates CNC machine code (G code) for manufacturers' CNC router. Custom one-off pieces are easily modified in the KCD Parts Viewer: one click lets a user add cut-outs, change the shape of their part, move and remove holes, dados, and more, then nest with the rest. Users can easily combine multiple jobs for maximized productivity and better yields. And KCD Software partners with hundreds of companies to make sure a manufacturer's CNC machine of choice works smoothly with the software.
"In KCD Software, a user's cabinet and closet manufacturing details are pre-set for speed and efficiency," says Project Manager Ken Frye. "However, the way someone chooses to run each job can be re-determined at the time of manufacturing. As a result, changes in building methods do not impact the project's design – and design changes won't impact their building method. Advantages include faster design to manufacturing, more accuracy, production control to run jobs to different specs, and the flexibility to edit cut list details for each job. And with KCD Software's free included tech support, users can get their CNC machine up and running quickly."
For more, visit booth No. 4147 at AWFS and kcdsoftware.com.