Northpoint Cabinetry available nationwide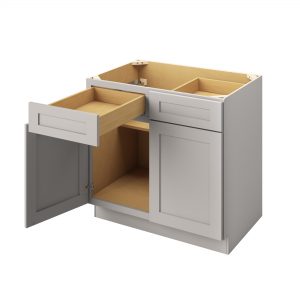 Hardware Resources' NorthPoint Cabinetry line, introduced in select markets in 2019, is now available for purchase and shipment nationwide. NorthPoint Cabinetry is a QuickBuild quality cabinet solution that addresses the need for a custom look, professional-grade solution without the time and labor associated with custom cabinets.
Manufactured in North America with solid wood construction, NorthPoint Cabinetry features sturdy dovetail design and pocket screw assembly that reinforce the cabinet's structural integrity. Cabinet color consistency is achieved with a premium 19 step finishing process that maintains a high degree of color and application accuracy. Although the cabinets are easily assembled with a screw gun and rubber mallet, they have a clean interior Birch finish with no visible fasteners, according to the manufacturer.
NorthPoint Cabinetry offers two cabinet collections: Premier and Essentials. The Premier line features full overlay design and functional upgrades like soft-close doors and drawers. The Essentials line delivers on style with a popular partial overlay design.
"Hardware Resources wanted to develop a differentiated line of easy-to-assemble cabinets that industry professionals would be proud to offer their customer. Response to the product line in the select markets we have been in has been very positive, and we are excited to be able to offer it nationwide," said Jay Pannebaker, Product Manager for NorthPoint Cabinetry.
NorthPoint Cabinetry cabinets are in stock, and ship from one of three distribution centers located in Tampa, Florida; Memphis, Tennessee; and Phoenix, Arizona. Orders ship flat-packed within 48 hours and arrive quickly from the nearest strategically located distribution center.
To learn more, visit Hardware Resources at AWFS booth No. 3200.