A work cell with brains and brawn
CNC Factory will present its fifth-generation CNC Working Cell at AWFS featuring a Python XPR CNC machining center, Badger 4600 edge bander, and Scorpion LDR boring and dowel insertion machine.
"Compact, yet powerfully productive. Technologically advanced, yet super simple to operate. Loaded with the latest in CNC, laser and robotic automation, yet affordable to own. These are just some of the hallmarks of the fifth generation CNC Working Cell that CNC Factory will present at the AWFS Fair 2021 in Las Vegas," the company says.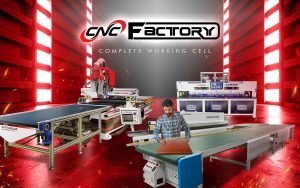 "The driverless cut, edge band, and bore/insert system, requiring only a 24' x 48' block of space, is capable of cranking out more than 100 ready-to-assemble cabinets in a seven-hour shift. Making the working cell even more efficient is the addition of CNC Factory's new robotic arm. Combined with automatic load/unload systems and motorized roller conveyors, manual material handling from feeding full sheets onto the machining center through unloading parts that have been edge banded, is completely eliminated.
"The 5G working cell's driverless technology not only does away with the heavy lifting, it does all of the critical thinking. Even a new hire with zero industry experience can learn to operate the large 21" touchscreen control in about an hour. The result is a highly reliable, lean manufacturing system that dramatically reduces errors and waste while assuring part quality and maximizing productivity."
For more, visit booth No. 1901 and www.cncfactory.com.