Oneida presents Rotary Air Lock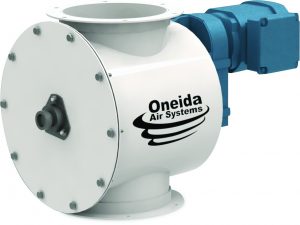 Designed for shops generating high volumes of wood dust, the single-phase, direct drive Rotary Air Lock by Oneida Air Systems eliminates the need for an airtight waste container and allows for the use of a dumpster, hopper, or transfer blower system.
"Ideal for use with the Dust Gorilla Pro and single-phase, high-vacuum dust collectors sold by Oneida Air Systems, this revolutionary device is also compatible with nearly any make or model single-phase collector," according to the AWFS exhibitor.
"Made in the U.S., the Rotary Air Lock maintains an airtight seal with your cyclonic dust collector while automatically feeding dust and debris into a hopper or transfer blower, resulting in significantly reduced labor costs for commercial wood shops. A 1/4-hp helical drive, high-efficiency gear motor controls the flow of discharge material from the collector via a steel and rubber rotor.
"It operates on 208/230-volt, single-phase power at a slower rotational speed (13 RPM) than competitive products for reduced energy usage, quieter operation, and less wear and tear on the motor and seals. Measuring 19" tall, 26" wide, and 18.5" deep, the 10" diameter Rotary Air Lock can move a volume of up to 18.5 cubic feet per minute at 100 percent loading and 5.5 cubic feet per minute at 30 percent loading."
For more, visit booth No. 2709 at AWFS.