Woodgrain Lumber brings on first Vecoplan shredder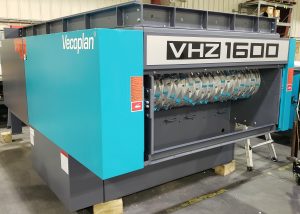 Woodgrain Lumber in Emmet, Ida. has purchased its first shredder from Vecoplan Midwest, an AWFS Fair exhibitor, to process planer end cuts.
Woodgrain's selection of the VHZ 1600 model, a heavy-duty large wood shredder, was based on two main reasons: Vecoplan produces uniform pieces, which will help a Woodgrain key customer feed better quality material into its production line. But prior experience at another facility is that other reason that really drove Woodgrain to choose a Vecoplan shredder, according to the companies.
"I was put in charge of improving our planer end cut waste process so we could serve a major customer," says Ryan Skinner, Emmet's production manager. "We chose the Vecoplan machine because of the quality and consistency in the material output."
Vecoplan Midwest LLC is a subsidiary of North Carolina-based Vecoplan LLC, both of which are part of Vecoplan AG located in Germany. The companies manufacture industrial and mobile shredders for size reduction of virtually any material, selling into plastics, wood, biomass, paper, recycling, and waste, and waste-to-energy markets. The Vecoplan Midwest office focuses on the wood and biomass business, and sells pelletizing equipment in addition to shredders.
For more, visit booth No. 1469 at AWFS and www.vecoplanllc.com.