Spray the most difficult coatings beautifully with SATA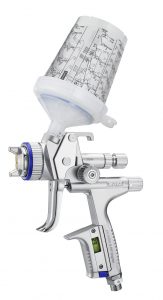 The wood finishing industry has seen many changes over the last several years; with the increasing popularity of waterborne finishes, as well as 2K high solids urethanes and polyesters, custom effects and even metallic finishes. These changes in coatings mean that atomization quality and consistency is now more important than ever before. To flawlessly apply these finishes requires high quality spray equipment that is specifically designed for these types of materials. SATA has been manufacturing and providing such equipment to many different finishing industries for decades.
The SATAjet 5000 B RP was designed with these complex coatings in mind and will help the wood finisher achieve a beautiful finish with ease.  With a nozzle set range from 1.0 to 2.5 the 5000 B can be perfectly matched to the viscosity or technology of the coating you are using.
AWFS booth #3531.  SATA/Dan-Am Company www.satausa.com. 800-533-8016