Save space with the Dust Deputy Bagger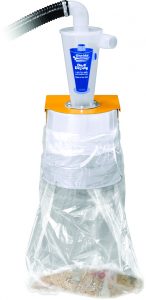 Oneida Air Systems will present the Dust Deputy Bagger at AWFS which combines the company's patented Dust Deputy cyclone separator with an innovative wall-mounted bagging system that turns any wet/dry vacuum into a high-capacity, two-stage dust collection system.
"It's ideal for any workshop, garage, or other space where wet/dry vacuums are regularly used," the company says. "Now 20 percent more efficient with Neutral Vane Technology, the Dust Deputy Bagger's cyclone removes over 99 percent of dust and debris from the airstream before it reaches the vacuum, virtually eliminating filter clogging and suction loss, and dramatically extending filter life.
"The Bagger's unique design allows the use of standard 4 mil garbage bags in place of traditional dust collection bins. By using clear collection bags, it's easy to see when the bag needs to be emptied and the volume of waste collected is only limited by the bag size being used. When the bag is approximately two-thirds full, simply gather the neck of the bag together, remove it from the Bagger unit, and dispose of it. No other system offers such a quick, easy, and mess-free method of wet/dry vacuum waste disposal."
For more, visit booth No. 2709 at AWFS and www.oneida-air.com.