Castle's Pocket Cutter/Screw Inserter gets major upgrade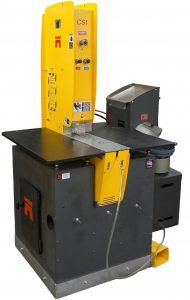 Castle USA's CSI 1.5D Pocket Cutter/Screw Inserter now has a newly updated, proprietary Screw Delivery System (SDS). Designed for continuous production manufacturing environments, the CSI was first introduced in 2014. All of the new SDS components have been specifically redesigned to accommodate applications for cabinet and furniture manufacturing.
Castle's CSI 1.5D Pocket Cutter/Screw Inserter creates pockets, with screws inserted, in only 1.5 seconds, according to the company.
Notable SDS features include a re-designed, vibratory bowl; simplified sensor system; re-designed escapement rails; screw orientators with a simple, effective design for minimizing jams; new air gate configuration; fixed plates to keep the shaker bowl securely in place; and new screw feeder tubes.
"As a joinery solution for woodworking manufacturing, the CSI 1.5D, with its newly re- designed, proprietary, Screw Delivery System (SDS) reduces production labor needs, specifically for non-value-added labor, increases joinery quality with debris-free joints, reduces operator injury and material costs by eliminating misplaced screws, provides a 40 percent labor cost savings at assembly," the company said in a statement.
The CSI 1.5D with SDS can be seen at AWFS, booth No. 2717.