New compact hinge from Hardware Resources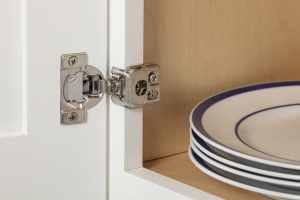 Hardware Resources is expanding its soft-close compact hinge line to include the new 9390ADJ Series, an easy-to-adjust, variable-speed soft-close hinge.
The 9390ADJ Series features 10 adjustment options to control the speed of the soft-close feature, making it the ideal choice for custom cabinetry shops who want to standardize with a single hinge for various door sizes and weights, according to the company.
"We developed the 9390ADJ Series to give cabinetry makers the ability to simplify their operation by using one hinge for a wide range of projects," said Benjamin Bainter, the company's Director of Product Management for Functional Hardware. "Using a flathead screwdriver, the 9390ADJ Series hinge can be easily adjusted to ten different settings.  This allows the installer to set the speed of the soft-close feature to be consistent for all doors, which adds uniformity to the project."
The 9390ADJ Series also features a quiet glide channel that reduces friction and noise when the hinges open and close.
Visit with Hardware Resources at AWFS booth No. 3935.