New blind corner pullout from Hardware Resources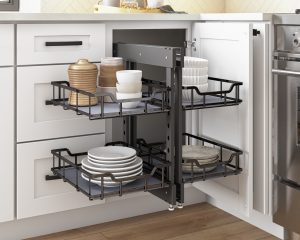 Hardware Resources will feature the new Blind Corner Pullout at AWFS that allows easier access into the depths of hard-to-reach corners in kitchen cabinets.
"One of the features that make this Blind Corner Pullout truly exceptional is that when fully extended out of the cabinet, the unit has a 1″ clearance to avoid interference with adjacent cabinet hardware," says Marisa Sanchez, Senior Product Manager for Organizers at Hardware Resources. "This feature is truly unique to the Storage with Style Blind Corner Pullout and means that designers do not have to be restricted on their cabinet hardware choice when using our blind corner organizer.
The pullout can be installed in either left- or right-hand blind corners and features four adjustable-height baskets that easily pull and provide for full access. It is available in both standard door/drawer and full-height door sizes for blind corner cabinets as well as two width options for 15" and 18" openings. For the full-height option, an additional pair of baskets can be added to make a three-tier organizer, according to the company.
For more, visit Hardware Resources at booth No. 3200 and www.hardwareresources.com.