Service manager reaches milestone at Global Shop Solutions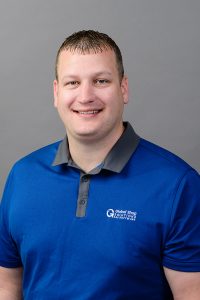 Manufacturers that use Enterprise Resource Planning (ERP) software appreciate stability on their software company's service team. Global Shop Solutions, developer of ERP software for manufacturers around the globe, is proud to celebrate 10 years of dedicated service from Technical Service Manager Doug Johnson.
"Doug has that rare combination of technical expertise and great leadership skills," says Mike Melzer, Vice President of Operations & Service at Global Shop Solutions. "His teams run like clockwork. He makes it fun for new employees starting in service. And he motivates them to get better so they can advance in their careers.
"The best thing about Doug is he doesn't miss anything. I sleep easier at night knowing I can give him any project and he will find a way to get it done."
"Great leaders make everyone around them better," adds President and CEO Dusty Alexander. "Not only is Doug very tech-savvy, he also extends his unselfish attitude to growing his team. Global Shop Solutions would not be where we are today without his efforts and initiatives."
Visit with Global Shop Solutions at AWFS booth No. 3048.