See Ritter's new pocket cutters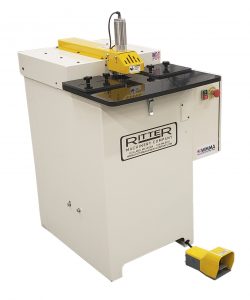 Ritter Machinery will showcase two newly designed pocket cutters at AWFS.
The new six-degree angle R2061 and R2063 machines compliment Ritter's existing counterbore machines by offering a router bit-based pocket cutter.
"The new design offers a single-phase machine that utilizes a router motor for the main cutting tool (R2061), and the three-phase machine  (R2063) that carrires a spindle motor for heavier use and longevity," the company explains.
For more, visit the Choice Machinery Group booth (No. 1168) and https://rittermachinery.com.