New hand-held Panel Carriers from Hoffmann-USA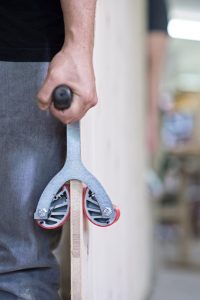 Hoffmann Machine Co. is offering a new line of hand-held Panel Carriers for easier lifting and moving all types of panels and sheet goods.
"Using these Panel Carriers can reduce strain on employees' backs, lessen the chance for injuries and lowers chance of panels being dropped or edge damaged, the AWFS exhibitor explains.
"Carriers are ideal for safely pulling sheets off stacks and for transporting panels to and from equipment."
For more, visit booth No. 417 at AWFS and www.hoffmannusa.com.