General will showcase its SMART technology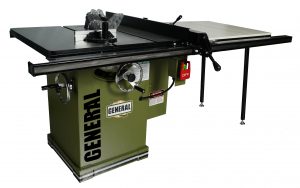 The General brand, one of North America's leading manufacturers of benchtop and commercial-grade woodworking equipment, will be showcasing a variety of groundbreaking new products at the upcoming AWFS Fair.
"The products on display at the AWFS Fair will showcase General's ongoing efforts to combine state-of-the-art technology with time-tested quality," the company says.
They will include General's new Automated/Digital Table Saw and air filtration devices featuring the company's patent-pending SMART technology.
"Unlike anything else offered in the commercial industry, General's SMART Automated/Digital Table Saw offers unprecedented automation capabilities designed for maximum precision cutting," the company explains. "Using a SMART digital keypad located on the front of the fence, users can easily program the desired blade depth and angle before letting the saw handle the rest. The fence is also automated and controlled by the same keypad. Once the fence is zeroed out, users can plug in any cut dimension and with the simple push of a button, the saw creates the precise rip cut needed."
For more, visit booth No. 1969 and https://generaltoolsusa.com.