Cefla will showcase Unidry-G and Prima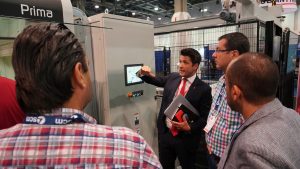 Cefla North America will present an operating flatline finishing work cell at AWFS, including Unidry-G gas-powered oven and Prima one-arm reciprocating spray machine.
The Unidry-G "drastically reduces dry times when compared to traditional drying technologies. This unique drying system generates an intense but controlled amount of infrared energy, which when combined with air movement allows for efficient and clean drying," the company explains.
The Prima "is ideal for companies seeking cost-effectiveness, excellent flexibility and productivity. It is user-friendly and reliable with low operating cost and initial investment. The system is equipped with a quick-change rotary valve that allows for fast color changes, small batches – all with little to no downtime. The pressurization feature further improves the machine's performance and allows shops of any size to set themselves up for future growth. As production levels increase, the machine is ready to be set in-line with other sequential technologies, such as drying. The pressurization assembly can be retrofitted to existing Prima installations in the field."
Visit Cefla at booth No. 933.